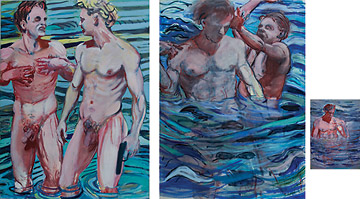 Richard Seehausen was born in Indiana and raised in upstate New York. He received his BFA in Painting from Buffalo State College. He lived in Buffalo for several years, showing at Hallwalls Gallery and the Albright Knox Gallery during the thriving Buffalo art scene of the late 1970s. Seehausen was included in the "Figures, Forms and Expressions" show in Buffalo in 1981 with other artists such as fellow "Buff State" alumni Cindy Sherman and Robert Longo as well as Francesco Clemente, David Salle and Sandro Chia, among others.
Seehausen's work clearly fits in with the figurative paintings prevalent in the later part of the last century. The British painter Francis Bacon, German Expressionism, pop art, advertising, and the news media have all eclectically influenced Seehausen's post modernist sensibility.
In 1981 Seehausen received the grand prize award at the Buffalo Evening News "Centennial Exhibition". Whitney Museum curator Lisa Phillips was the juror. He moved to Brooklyn after receiving a CAPS grant, and found representation through the Monique Knowlton Gallery in Manhattan. In 1985, he was selected for the prestigious "Image Scavengers" exhibition at the Institute of Contemporary Art in Philadelphia. Other artists included Thomas Lawson, Sherrie Levine, Barbara Kruger, Sherman, Longo, Salle and others. He continued showing and selling his work with Knowlton until she closed in the late 1990s.
In 2001 he moved to the lower Catskills with his wife and daughter. Since then, Seehausen has exhibited at the Catskill Art Society in Livingston Manor, NY, the Nutshell Art Gallery in Lake Huntington and at the Delaware Valley Arts Alliance in Narrowsburg, NY, among others (see resume). In 2017, the Burchfield Penney Art Center acquired the painting "American Vacation" for inclusion in their "50 in 50 – Fifty Works for Fifty Years" collection.
Aside from certain social and even political commentary discernible in his work, Seehausen prefers to allow his paintings to speak for themselves, in that visual language beyond words.
ARTIST RESUME
Born 1951 in Plymouth, Indiana BFA Painting, 1976, Buffalo State College, Buffalo, New York
SOLO EXHIBITIONS
2011 "Missing Artist: The Picture Years", Alliance Gallery, Delaware Valley Arts Alliance (DVAA) Narrowsburg, NY
2007 "Passage" Columbia-Greene Community College, Hudson, NY
1982 Monique Knowlton Gallery, New York City
1980 Essex Art Center (AC Gallery), Buffalo, NY
GROUP EXHIBITIONS
2019 "Woodstock at Fifty" Nutshell Art Gallery, Lake Huntington, NY
"Art In Sixes" Alliance Gallery, DVAA

2018 "Art In Sixes" Alliance Gallery, DVAA

2017 "50 in 50" Burchfield Penney Art Center, Buffalo, NY (catalog)
"Art In Sixes" Alliance Gallery, DVAA

2016 "About Face" Alliance Gallery, DVAA
"Art In Sixes" Alliance Gallery, DVAA

2015 "Art In Sixes" Alliance Gallery, DVAA
"Friends of Cecily" Nutshell Art Gallery
2014 "Art In Sixes" Alliance Gallery, DVAA
"Crowd" Green Door, Liberty, NY, curated by Outsider's Studio
2013 "Art In Sixes" Alliance Gallery, DVAA
2011 "Art on the Edge", Silk Mill, Hawley, PA
2009 "The Figure Show", Nutshell Art Gallery

2008 "Flying", Nutshell Art Gallery
2007 "Figures, Still Lifes, and Interiors", Nutshell Art Gallery

2006 "Humanidad", Nutshell Art Gallery

Annual Members' Exhibition, Catskill Art Society, Hurleyville, NY

2005 Annual Members' Exhibition, Catskill Art Society

2003 "Animal Art", Catskill Art Society Annual Members' Exhibition Catskill Art Society

1996 "Splash", Monique Knowlton Gallery, New York City

1995 Inaugural Group Exhibition, Monique Knowlton Gallery, New York City

1992 "Article II, Sec. 4: Art at the Polls", Limner Gallery, New York City

1988 "Twenty in New York", Nina Freudenheim Gallery, Buffalo, New York

1985 Gallery Artist's Exhibition, Monique Knowlton Gallery
Hallwalls Gallery, Buffalo, Roger Denson, curator
"Nineteen in New York", Nina Freudenheim Gallery
1983 Gallery Artist's Exhibition, Monique Knowlton Gallery

1982 "Image Scavengers", Institute of Contemporary Art, Philadelphia, (catalog)
Chicago International Art Exhibition, Navy Pier, Chicago 
CAPS Award Exhibition, New York (national traveling exhibition)
CAPS recipient exhibition, Firehouse Gallery, Nassau Community College, Long Island

1981 "Figures, Forms, and Expressions", Hallwalls Gallery/Albright-Knox Art Gallery, Buffalo, NY (catalog)
"Summerspace", Hallwalls Gallery, Buffalo, NY

1980 Buffalo Evening News "Centennial Art Exhibition" curated by Lisa Phillips, (catalog)   Members Show, Hallwalls Gallery
1979 "In Western New York", Albright-Knox Art Gallery, (catalog)

1978 "37th Annual Western New York Exhibition", Albright-Knox Art Gallery, (catalog)

1976 "Open Space", Hallwalls Gallery

1975 "Working on Paper", Hallwalls Gallery
"Arena 75", Binghamton Arena, Binghamton, New York
AWARDS
1981 New York State Creative Artists' Public Service (CAPS) grant
1980 Centennial Award, Buffalo Evening News Centennial Exhibition, Lisa Phillips, juror
1978 Manufacturers Hanover Award, Albright-Knox "37th Annual Western New York Exhibition"
SELECTED REVIEWS
1983 Smith, Roberta. "Appropriation Uber Alles," The Village Voice, January 11, 1983
1982 Henry, Gerritt. "Richard Seehausen" at Monique Knowlton, Art News, October, 1982
1980 Huntington, Richard. "Seehausen Shows Touch of Sinister", Courier Express, Buffalo, NY